Last month, the old inspection station at 590 Washington was demolished to make way for a gorgeous new multi-use center that will serve Memphians during their most vulnerable moments.
This project is the culmination of years of work by partners all over the region, including the City of Memphis Mayor's Office, Shelby County Mayor's Office, Memphis City Council, Shelby County Commission, Downtown Memphis Commission, and generous local foundations and donors.
We are now looking to expand our community of supporters to include you.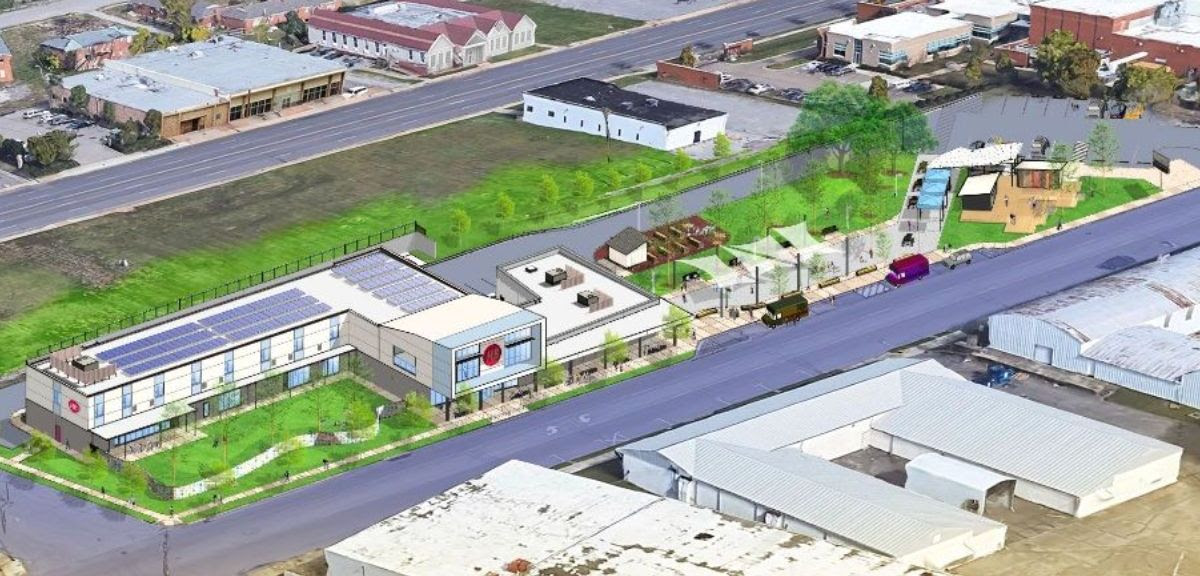 Rendering of the new 590 Washington Ave site is courtesy of Haizlip Studios. Click the image to read more about the project.
A New Barrier-Free Women's Shelter
Women comprise 37% of the homeless population in Memphis but have access to just 6% of the available shelter beds each night. The region's first barrier-free emergency shelter for women will change that. The new shelter incorporates trauma-informed design and provides immediate stability and a space to begin to heal from the trauma of the streets. Paired with top-tier, 24/7 case management, the shelter provides a necessary baseline from which to rebuild a stable life.
The Hospitality Hub's Office
The office will be home to an expanded center of operations for the region's single point of entry for homeless individuals, where Hub intake and assessments connect people experiencing homelessness with the stabilizing resources they need. Hub programs including Street Outreach, Work Local (jobs), and supportive housing will operate from this central point.
The Plaza
The Plaza's 25,000 sq. ft. of world-class urban park space will be a respite from street and shelter life and translate the Hub's institutional capacity into the built environment of public space. The Plaza is an inclusive space where the most vulnerable members of our community find respite and a soft-threshold into the Continuum of Care. Phase 1 of the Plaza, which was completed last month, will be incorporated into later phases of the larger Plaza as construction proceeds.
Thank you,
The Hospitality Hub