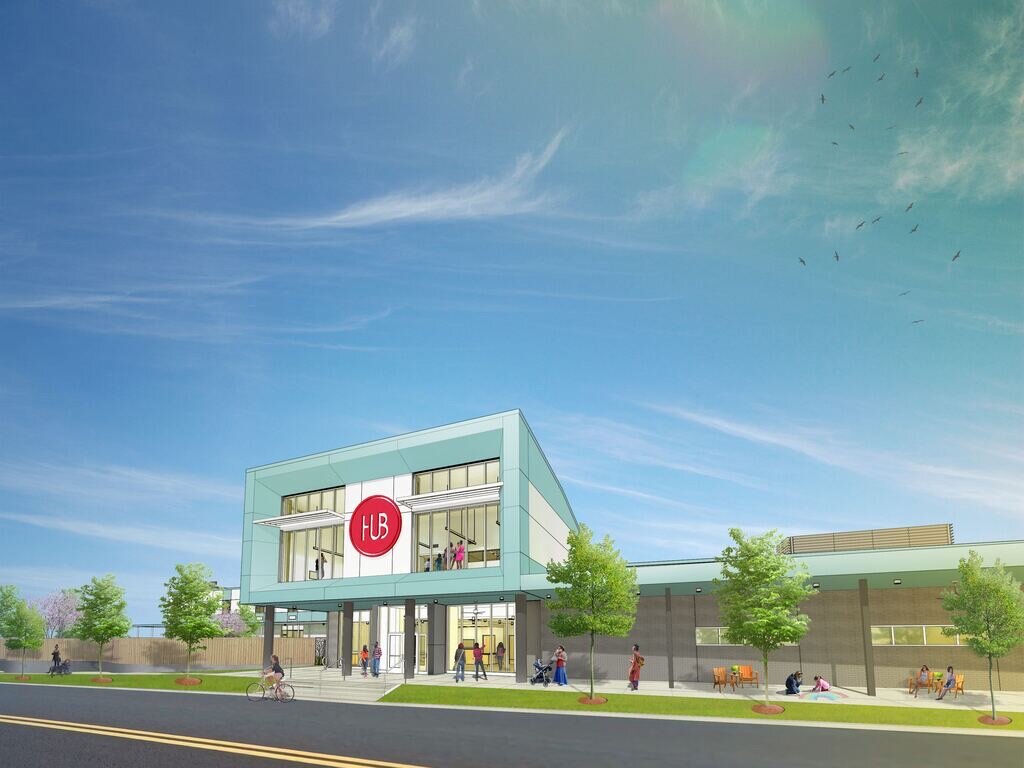 On June 21, Memphis' Hospitality Hub broke ground on the latest phase of their new campus in the Medical District. The new facility will increase their capacity to serve Memphians in need of temporary housing and help transitioning out of homelessness.
The new campus at 590 Washington Ave. is already home to the Hub Day Plaza, which opened in fall 2020. The plaza has restrooms, lockers, and comfortable places to sit, as well as a mail services center that allows unhoused guests without personal addresses to receive mail.
Additions to the campus at 590 Washington Avenue will include several greenspaces and a new 6,000-square-foot facility that will house the Hub's various offices and programs that connect people to emergency and permanent housing, work, social services, and more.
Ellen Roberds, co-founder of Hospitality Hub, said the expansion will also include the area's first "barrier free" women's emergency housing shelter.
The new facilities are expected to open in February 2022.
Roberds said 37% of their clients who were seeking help finding shelter for the night were women, but only 6% of the city's emergency shelter beds were available to them. That's before any added barriers.
"A lot of the beds for women in town have stipulations about when you come in, how you come in, and what you need. Some require money, some require ID, some have very limited intake schedules," said Roberds. "What we want to be able to do is [say], 'If you need a place to stay for just tonight, great. We have a bed for you. You don't have to make a commitment to us.'"
Some local shelters won't house women with children and some don't allow transgender women. The Hub's new shelter will eliminate those roadblocks too.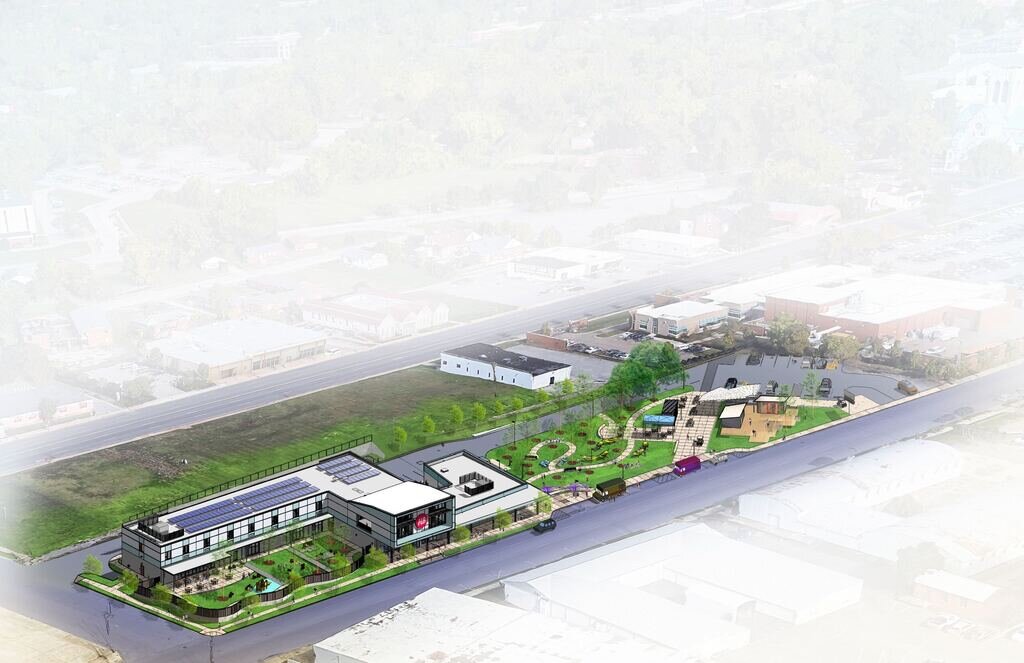 Plans for the new Hospitality Hub campus include a 6,000-square-foot intake facility, multiple greenspaces, day plaza, and barrier-free women's shelter. 
Each of the 32 bedrooms in the shelter will have two beds with trundles and a semi-private bathroom. Guests will have access to a kitchen, laundry, and family room. Trauma-informed design elements like rounded corners, calming greenspaces, quiet areas, and welcoming colors will be incorporated into the architecture.
In the lobby of the new building, all guests—including day visitors and shelter guests—will be welcomed by intake staff who can help assess individual needs.
Caseworkers will be available for those who want help getting a state ID, applying for SNAP benefits, or transitioning into permanent housing. They'll have access to phones and iPads to facilitate job applications. Staff can also refer guests to partner organizations for other services like legal support or mental health treatment.
Guests at Hospitality Hub are given the option to receive as much assistance as they want, but Roberds said no one is forced to make choices they aren't comfortable with. She stressed that autonomy for all guests is an important part of the Hub's philosophy.
Roberds said they have been planning their move to a new campus for over a year after outgrowing their headquarters at 82 North Second Street.
"This building has been in the works for a while [but] had a little bit of a sidetrack while we all survived the pandemic and other intense work," she said.
Knowing construction would be delayed on the new shelter, the Hub purchased and renovated a large home using trauma-informed design. They dubbed it the Hub Hotel. It opened full-time in July 2020 and offers housing and case workers facilitating wraparound social services for roughly two dozen women who are transitioning out of homelessness to permanent housing.
Roberds said the Hub has been working successfully with the City of Memphis on outreach and support for unhoused Memphians.
"The city has been a great partner, and they really want us to give top tier services," she said. "The plaza gives you a hint of the style we're going for, the trauma-informed pieces that we're going for in our design, as well as our operations and programs. We want everything to be high-quality and the city believes in that"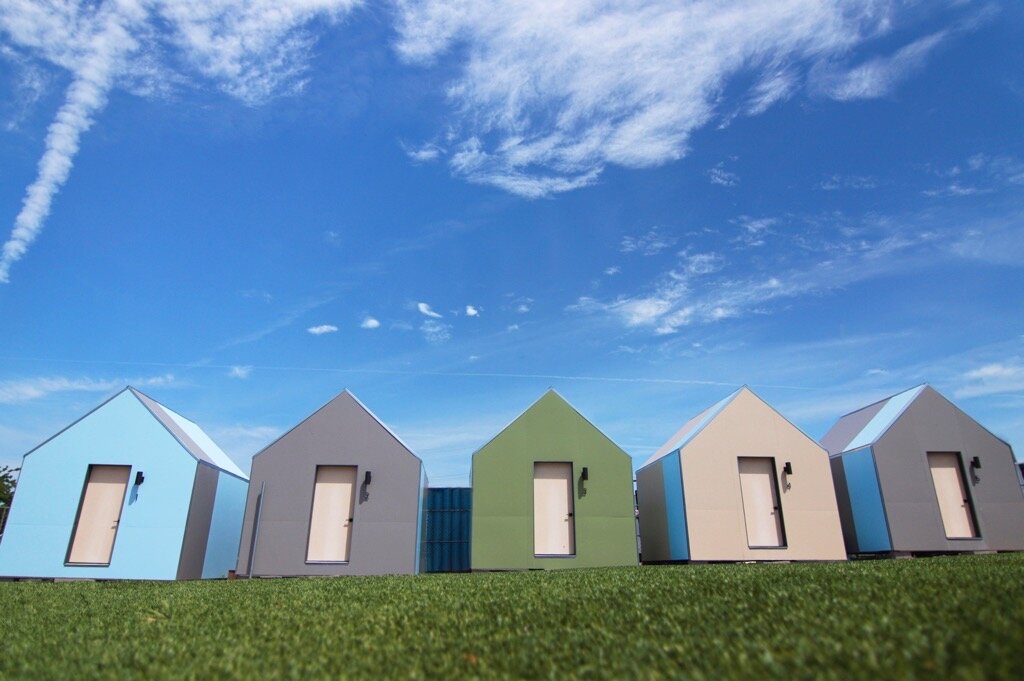 The first of the Hub Studios are currently located on the grounds of Hospitality Hub's new campus but will be moved before the expansion is complete. 
The Hub Studios
In spring 2021, the Hub completed construction on five, one-bedroom studio units adjacent to the day plaza.
The Hub Studios can house families or individuals whose needs aren't met by other local housing solutions. The Hub's examples include people who have PTSD and may need a private space or those who have been accepted into the federal rapid rehousing program but are waiting for keys to their permanent space.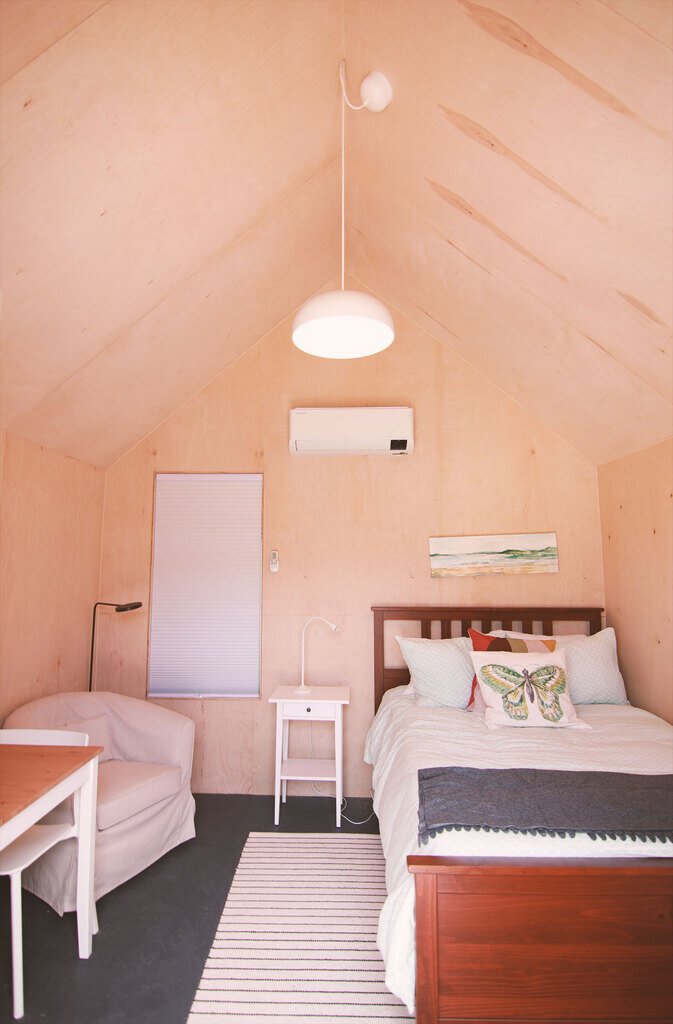 Hospitality Hub partnered with IKEA to decorate their new Hub Studios. IKEA donated the items and their staff volunteered to assemble it. Roberds was particularly excited about their partnership with IKEA to outfit the studios.
"IKEA donated all the furniture, and even more joyously, they donated their labor," she said. "Their staff came out, had a volunteer day and put all the furniture together. They worked with our in-house design consultant who's been working on the shelter with us."
Before the new campus is completed, the Hub Studios move to a yet-to-be-determined location.
The Hub plans to then add more small studios and a shared laundry, kitchen, and bathroom facilities, as well as larger studios with their own kitchens and bathrooms.
The organization hopes grouping these studios together will help build community for their guests.